2019 Cheer City Cheerleading Camps Cheerleading
MonTueWedThuFriSatSun 9:00am to 3:00pm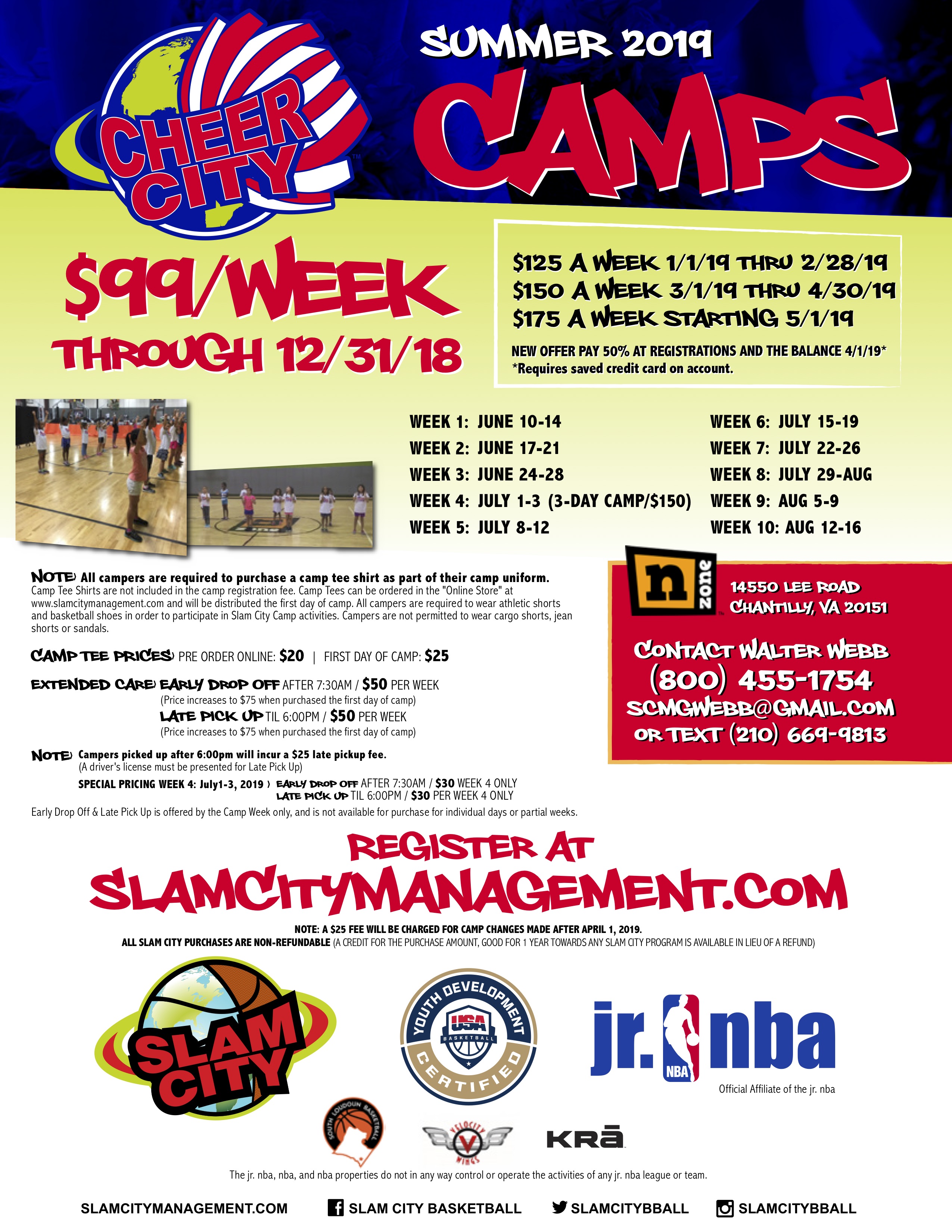 NOTE: All campers are required to purchase a camp tee shirt as part of their camp uniform. Camp Tee
Shirts are not included in the camp registration fee. Camp Tees can be ordered in the "Online Store" at
www.slamcitymanagement.com and will be distributed the first day of camp. All campers are required
to wear athletic clothing and sneakers in order to participate in Cheer City Camp activities.
Campers are not permitted to wear cargo shorts, jean shorts or sandals.
CAMP TEE PRICES
PRE ORDER ONLINE: $20
FIRST DAY OF CAMP: $25
NOTE: A $25 FEE WILL BE CHARGED FOR CAMP CHANGES MADE AFTER APRIL 1, 2019.
NOTE: STARTING APRIL 1, 2019 A FEE OF $25 WILL BE CHARGED FOR EACH CAMP CHANGE REQUEST.
All Slam City Purchases are Non-Refundable
(A credit for the purchase amount, good for 1 year towards any
Slam City Program is Available in Lieu of a Refund)
---
MonTueWedThuFriSatSun 9:00am to 3:00pm

Free Agent Fees

Early Bird

99.0

Regular

195.0

Payment Plans Available

MonTueWedThuFriSatSun 9:00am to 3:00pm

Free Agent Fees

Early Bird

99.0

Regular

195.0

Payment Plans Available

MonTueWedThuFriSatSun 9:00am to 3:00pm

Free Agent Fees

Early Bird

99.0

Regular

195.0

Payment Plans Available

MonTueWedThuFriSatSun 9:00am to 3:00pm

Free Agent Fees

Early Bird

99.0

Regular

125.0

Payment Plans Available

MonTueWedThuFriSatSun 9:00am to 3:00pm

Free Agent Fees

Early Bird

99.0

Regular

195.0

Payment Plans Available

MonTueWedThuFriSatSun 9:00am to 3:00pm

Free Agent Fees

Early Bird

99.0

Regular

195.0

Payment Plans Available

MonTueWedThuFriSatSun 9:00am to 3:00pm

Free Agent Fees

Early Bird

99.0

Regular

195.0

Payment Plans Available

MonTueWedThuFriSatSun 9:00am to 3:00pm

Free Agent Fees

Early Bird

99.0

Regular

195.0

Payment Plans Available

MonTueWedThuFriSatSun 9:00am to 3:00pm

Free Agent Fees

Early Bird

99.0

Regular

195.0

Payment Plans Available

MonTueWedThuFriSatSun 9:00am to 3:00pm

Free Agent Fees

Early Bird

99.0

Regular

195.0

Payment Plans Available